Osmosis Pür Medical Skincare Creates HydraLift - Firming Gel Mask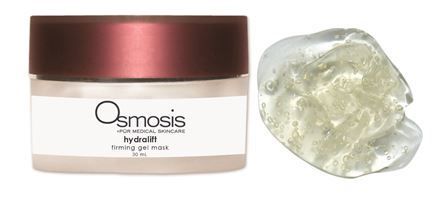 Osmosis Pür Medical Skincare announces the launch of their HydraLift - Firming Gel Mask. An at-home treatment to simultaneously firm and hydrate, revealing a youthful glow with each use.
The gel formula helps to plump and smooth out rough textures and wrinkles while also promoting soothing benefits. Calming cucumber extractprovides a cooling and healing effect to irritated skins while its silica helps reduce and tighten fine lines. Aloe Vera will then help to speed up cell renewal by up to 8 times, quickly penetrating the epidermis for intense, immediate hydration. Chamomile, green tea leaf extract and Pro-Vitamin B5 work together to relieve skin congestion and increase blood flow at surface level for additional anti-aging benefits.
Hyaluronic acid, plentiful in the dermis of young skin, provides added volume and create a moisturizing veil to soften complexion. Fermented radish root is antimicrobial. The result is an anti-aging gel mask with instant gratification for hydrating and lifting.
Directions: Apply an even layer to cleansed skin, avoiding the eye area. Leave on for 5 to 15 minutes and rinse with water. Can be used daily.
Disclosure:
No compensation was offered or taken in exchange for this feature article. I have no affiliation to any of these brands or retailers mentioned and any opinions expressed are my own.